Outfit Your Dog in Style With Our High-Quality Dog Products

Find out why we were voted Coolest Pet Destination in America!

Contact Us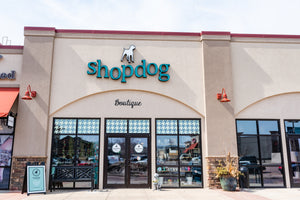 Get Friendly Advice From Our Professional Dog Mom Advisors
Shop Dog Boutique is the place for all hip dogs and loving pet parents to shop for supplies, advice, and enjoy fun dog-friendly events in Sioux Falls. We believe a healthy dog is a happy dog. We'll give you the tools and knowledge you need to give your dog his best life.

Reach out to us if you have any questions or visit our location in Sioux Falls.
Our Store
Our trained team will help you with any dietary concerns you may have for your pet. Our product variety allows us to help you find a solution to common concerns like allergies, digestive struggles, and more. We carry all-natural, US-made dog food and treats in our pet store. We'll help you find the best solutions for your dog's needs.
Our store also carries many pet supplies. This includes toys, collars, treats, and birthday goods.
Mount Ruffmore
Ever wish there were more pet-friendly souvenirs that were US-made? Now you can get something for your four-legged friend when you pick up our Mount Ruffmore biscuits. Our Mount Ruffmore dog biscuits were developed with a classic favorite American flavor combination of peanut butter and jelly with safe, natural, and human-grade ingredients and they're made in right here in the Midwest.
Monthly Subscription
Each month we hand-pick all-natural, US-made, seasonal treats to send straight to your doorstep! Each month we'll add a unique gift for you or your pup in addition to the tasty treats. Your pup's food pantry will never be boring again!
Hear What Our Happy Furry Friends Have to Say
Learn More About Shop Dog Boutique
Shop Dog Boutique has been the leading pet store in the area since 2012. We're proud to be the premier destination for unique collars, natural pet foods, and everything else your dog needs.
Visit by Our Sioux Falls Pet Store Today
We look forward to welcoming you and your dog into our pet shop in Sioux Falls. Browse our selection of premium dog products. Our friendly and educated team will help you find just what you need.